It's a new year, but it's the same old shit. As usual, the world is burning in more ways than one, people are dying of entirely preventable causes, there's a war in the Middle East, and on top of all that, there's widespread discontent over our society's treatment of women, minorities and economically weaker sections.
Inside, outside and all over everything – like sand at the end of a day at the beach -there's politics. As MAGA culture competes with woke culture for primacy in the public sphere, it seems that we simply cannot avoid politics anymore. The class of people who say they're "just not that political" appears to have disappeared entirely. In its place, we have a bold, militant and confident populace that seems to know the answer to every question, and a solution to every problem. Like an obese guy on an imbalanced diet of pure fat and sugars, many of us have unwittingly foregone a balanced news media diet, choosing instead to rely on Facebook and Whatsapp for all our information. While the exact ramifications of this shift will take a few years to unfold, what's abundantly clear is that family dinners and social gatherings are now infinitely more contentious and uncomfortable. Nobody is willing to give an inch because we no longer share the same "undisputable facts" from which we can all agree to diverge.
The earth's a sphere? Nope, fake news. Humans evolved from apelike creatures? That's an opinion; not fact. Vaccines are the best thing ever? Think again. Climate change is real and is wiping out animals at an unprecedented rate? Debatable. Propositions that could easily be dismissed as "conspiracy theories" have been legitimized, propagated and amplified by world leaders who see them as immutable facts. As a consequence, public discourse has worsened, and disagreements go in endless circles, with each side seemingly chasing the other down an endless loop of Penrose stairs. More importantly, we're starting to realize that the men and women we grew up around, looked up to and loved are really not great people.
In fact, some of them are just assholes. Remember that uncle you thought was nice because he got you candy from whichever country he was travelling to? Well, turns out he's racist and thinks people trying to sneak across the border should be shot at sight. Your own father, who taught you to respect everybody regardless of their religion, skin colour or gender? He's now a zealot cheering for every populist who vows to get rid of everybody who doesn't look like him. Your distant relative who only shows up to weddings and always has the wildest, more fantastic stories to tell? He's a literal Nazi.
This guide is for navigating conversations with these people. More generally, it is to allow you to cut through fluff and understand the heart of the matter without getting sucked into the argument.
OK, let's do this.
Don't try to avoid confrontation
This is the first and most important thing to do. If you try to avoid conflict by hanging around the potted plants, slinking out of arguments or just staring at your food without eating any, you will be spotted and called out. Some people (myself included) enjoy arguments, and some others also enjoy getting a rise out of people and making them feel uncomfortable. You know the type. That guy who wears a MAGA hat to a environmental event. By avoiding these people, you're paradoxically making it more likely that they're going to find you and confront you. So, don't.
Always begin with a statement 90% people will have no problems with
For example: "such a shame that Australia is burning and the PM is away on a holiday in Hawaii. What an asshole."
This does two things: first, shows that you mean well and allows you to break the ice fairly easily; second, you get to gauge the reactions from the crowd and see who the wackos are so you can focus on them. You can now be confident that not everybody hates you right off the bat.
The responses to the above example should ideally be some combination of "hmm, yes", "I can't believe his insensitivity", "I'm sure he has some other competent person taking care of the fire, but it's certainly not a good look". The wackos will say something like "NO! That is NOT true! ScoMo is a genius who can direct his people from far away", or may even jump the gun and say "wildfires are perfectly common in Australia in the dry season. It's only the environmentally-conscious, bamboo-socks-wearing SJW libcucks who are whining about it."
Resist the urge to say "OK, boomer!" because you are better than that.
Ask. Ask. Ask.
This is something I like to do, but I understand that it doesn't always work, and takes a bit of patience to fully bear fruit.
Once you're managed to get a feel for who the truly weird ones are, make a mental note of it. Then, begin asking them questions to help clarify their stance on the matter. After they're done answering one question, ask them another follow-up question. Then another, then another. But keep in mind that you're not trying to argue with them. Not yet. So, don't state your opinions on the matter too clearly and try to stick as closely as you can to the question-answer-followup-answer-question […] format. Typically, you will want to frame questions in the following ways:
What do you think about <recent controversial event related to the argument at hand>?
Why do you think that?
Oh, is that an actual quote?
Where did you read/watch/hear that?
Do you have any personal experience of that?
Do experts in that field agree?
How do you know?
How come?
I have a friend who thinks <slightly weaker formulation of their view>. Do you think that's true?
I read somewhere that <much stronger formulation of their view>. But that seems too extreme, right?
So, if you believe <statement A> and <statement B>, does that mean you also think <statement C>?
Am I correct in assuming that you also think <related statement other people generally make>?
While asking these questions, bear in mind that you're not interrogating them, and nobody likes to feel like they're being interrogated. So, try to keep things jovial and throw in a joke or two here and there (unless you don't mind getting into screaming contests, in which case I suggest you go for it.)
If your adversary is a noob, they'd have tripped over themselves a few times already and said a few patently wrong/wildly offensive/absurd/contradictory things. When they do, call them out on it. If you are still trying to avoid conflict, you can just ask them if that's contradictory and wait for a response.
Another pro tip here: follow this Q&A format when talking to someone you don't entirely agree with. Who knows, their reasoning may just end up changing your mind.
Know the difference between "fact", "opinion" and "belief"
Practically everybody knows the difference between fact and opinion. So, why do we still fight over what's a fact and what's an opinion?
The way I see it, a fact has to be more-or-less universally agreed upon to be of any value in an argument. If you're bringing a statement to the table, it needs to be a "fact" to avoid spawning side-arguments about the legitimacy, sources, reasoning etc.
For example, "the earth is a sphere" could be considered a fact (until recently). However, "two out of three marriages end in a divorce" is not a fact. That's because while the former statement is true regardless of when and where you make the statement, the latter is not. The statement "two out of three marriages end in a divorce" may be true in the USA at a given time, based on information from a certain website/data provider and for a specific time frame. It is NOT universally true: if you're trying to have an argument about the legitimacy of marriage as an institution, it is completely unhelpful to make such broad claims because that's asking for recursive side-arguments.
At an abstract level, practically everything we say is an opinion. That holds in arguments as well: you can make the wildest claims you feel like making because you're entitled to an opinion. You can support your opinion and strengthen it by invoking famous personalities, scientific sources or popular media. However, that doesn't necessarily make your opinion an "informed opinion" because:
Your reasoning may not be watertight
You may just have one source or nobody really believes your sources
You made a logical leap that your audience did not follow
Your predictions don't make sense
There's not much to be gained either way
So, whenever you argue based on facts, take care to mentally distinguish between solid facts, opinion and informed opinion. Separate them and build arguments using mostly facts and informed opinions. Try to avoid stating empty opinion.
Slightly apart from the above categorization of fact and opinion is "ideology". Ideology is a set of governing principles or beliefs that you use to organize, structure and reconcile opinions. It may be fact-based, but doesn't need to be. Ideology is the third key element of political thinking that people often forget. Disagreements about ideology are why some arguments can go on for hours without ever reaching a conclusion. For example, the opinion "people should be able to say whatever they feel like" is built around the beliefs that:
expression is a fundamental right,
people should be guaranteed a set of basic rights,
everybody should be guaranteed the same set of basic rights, and
individuals should be able to enjoy their rights however they see fit
Unlike opinions, beliefs are impervious to logical argumentation. For example, if I believe very strongly that humans are created unequal and therefore cannot be treated equally, how will you convince me using logic? Logic is inferior to beliefs because a logical system itself derives from some set beliefs about the importance of cohesion, the necessity to avoid contradiction etc. So, when your argument drills through layers of fact and opinion to finally strike a belief, know that you've gone as far as you'll get. At that point, step back a bit and summarize what you're agreeing about, and what you will continue to disagree about. You won't always get them to agree to disagree, but you don't need to keep disagreeing knowing it'll get you nowhere.
Build your own ideological map
Pick any two beliefs that you think are the most significant in trying to understand someone's political leanings, and try to judge where they stand on both those beliefs. For example, here's a chart from Vox showing the ideologies of various American political figures:
It maps belief in two statements: "government support for minorities is good" and "wealth redistribution is good". Not everybody believes in both, and belief in one is not an indicator of belief in the other.
Not entirely okay with that chart? That's fine, because charts such as these are tools to view the politics of one specific country, at that specific time. Beliefs vary across regions, people change over time, and parties shift their ideologies to better reflect those in power (not the voters, silly!) The most perfect example of this shift over time is the rise of the Indian political right, which has caused the utter demolition of centrist positions.
Here's a fantastic infographic showing the same thing (courtesy Rahul Verma on Twitter):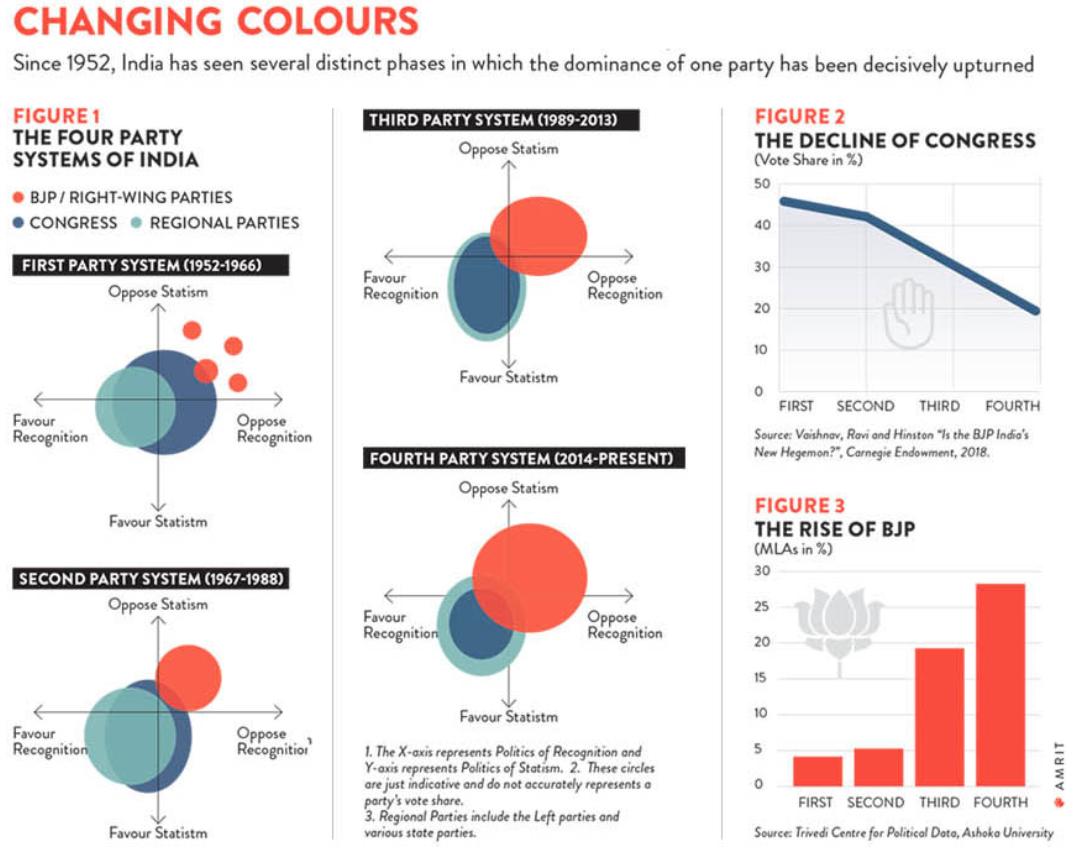 In Verma's charts, he examines India's political parties along two dimensions: "politics of recognition", or the belief that some sections of society (lower castes, religious minorities etc.) have been treated badly through history and thus need to be recognized as such; and "politics of statism", or the belief that the Indian state needs to actively involve itself in shaping societal norms and practices.
The two charts above are starkly different both in their scope and in the type of questions they ask. Yet, they are both useful in seeing people's outward behaviour through their individual ideological lenses. Pick up one of the above, or make your own. It doesn't matter as long as you have a certain framework to place people and their beliefs relative to each other and (maybe) pit them against each other.
Descend into the particulars
Because people have a whole range of beliefs inside them, it's generally impossible in one sitting to know how similar they are to your own. So, it makes no sense to get into a virtue-measuring contest.
Instead, get down to the fighting pits and get your hands dirty. Ask them what they mean when they say something. Ask for details. Shed the ideology talk and get down to the argument: what is the specific statement, action or cause that is being argued over? Do not engage any "high level" bullshit about equality or rights or tradition. Define your stance and make them define theirs. If you're arguing with multiple people, make everybody clarify their position and understand how each one is similar to another, or how it is different from the other.
So, instead of arguing over how good Mexican immigration to the US is, you should be discussing whether separating refugees from their children is a good idea. In place of saying Xinjiang is a humanitarian nightmare, you can be saying that "detention and reeducation camps" in various cities throughout Xinjiang have the potential to be places of immense violence and unspeakable horror, especially when you factor in the fact that China is as closed-off as a country can get. Instead of squabbling about whether the NRC-CAA is anti-Muslim, you should be fighting over the moral validity of making people produce documents they cannot possibly have, to please politicians that cannot possibly be convinced that an Indian Muslim can have just as much right to citizenship as an Indian Hindu.
Avoiding hoity-toity talk lets you keep the discussion civil because you're not calling each other names. All you're doing is discussing the relative merits of the two sides to a specific idea. That's it. You also immediately get the moral high ground because you took the care to understand everybody's position before jumping into the ring. Therefore, you are now the referee as well, and can exercise control over everybody in the group and call for peace and calm when things get out of control. And once the discussion is over, you harbour no animosity and can continue to try to chip away at their bigotry. Not only does specificity make your argument that much more convincing, it also gives you another opportunity to try if you fail the first time.
Imagine that. Change that keeps on changing.
Know your own biases and blindspots
As I said earlier, we all walk into an argument with our own beliefs and ideologies. And unlike opinions, you cannot easily shake beliefs. So, it always helps to audit yourself. Once in a while, sit back and take stock of where you stand with respect to a few fundamental questions: do I believe I'm equal to everybody else? Do I believe I need to be given any special privileges for being intelligent, smart, successful, rich etc.? Do I believe that the state should play a major role in deciding what is and isn't acceptable in society?
For each question, rate yourself along a scale of 0-9, and file it away. Anything that's less than 2 or more than 7 is a strong belief, and therefore a potential blind spot. These are your Achilles' heels in any argument. Before placing someone on your ideological map, ask yourself whether your rating of them has anything to do with your biases. Over time, you'll realize that many people you'd dismissed as "extreme" probably seem that way because you are pretty extreme yourself.
A conclusion
In testing times such as these, the world can seem bleak and hopeless. Maybe it is. But there's also hope: schoolchildren are fighting for their world, the disenfranchised are clawing into positions of power, women are taking over businesses and businesses are taking responsibility for their actions. It will take time for the world to correct its path, and 2020 won't be the year we all see a better world. But, one person at a time, we can make sure that we aren't hating when we can be convincing, fighting when we can be arguing, or hurting when we can be educating.
But beware the peddlers of Moore's paradox: "it is raining, but I don't believe that it is raining". Or, in its more quotidian form: "what you are saying is right, but I don't believe that you are right".